The Small Business Digital Manager – Recommended Resources
We recommend the following resources in addition to resources mentioned in our course content:
Books
In The E-Myth, Michael Gerber dispels the myths surrounding starting your own business and shows how commonplace assumptions can get in the way of running a business.
He walks you through the steps in the life of a business from entrepreneurial infancy, through adolescent growing pains, to the mature entrepreneurial perspective, the guiding light of all businesses that succeed. He then shows how to apply the lessons of franchising to any business whether or not it is a franchise. Finally, Gerber draws the vital, often overlooked distinction between working on your business and working in your business.
After reading The E-Myth Revisited, you will truly be able to grow your business in a predictable and productive way.
More info: The E-Myth
One of the most inspiring and impactful books ever written, The 7 Habits of Highly Effective People: Powerful Lessons in Personal Change has captivated readers for 25 years and transformed the lives of Presidents and CEOs, educators and parents— in short, millions of people of all ages and occupations.
The 7 Habits of Highly Effective People was a groundbreaker when it was first published in 1990, and it continues to be a business bestseller with more than 10 million copies sold. Stephen Covey, an internationally respected leadership authority, realizes that true success encompasses a balance of personal and professional effectiveness, so this book is a manual for performing better in both arenas.
More info: The 7 Habits Of Highly Effective People
Tools
The tools and resources listed below will help you save time and improve your productivity: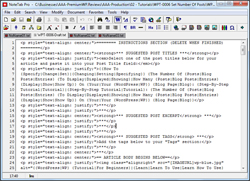 NoteTab is a powerful text and HTML editor tool that lets you edit multiple text files simultaneously, strip HTML from code and a whole lot more (e.g. use it to do search and replace functions across multiple files at the same time).
We recommend downloading and using the PRO version.
More Info: NoteTab Pro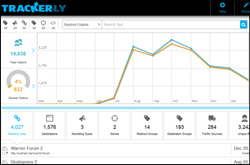 Trackerly is a professional link redirection management tool that goes beyond what most other redirection software can do.
Trackerly is robust, very well supported and is provided as subscription-based SAAS (Software As A Service) that gives you complete control of all your link redirection needs.
We have used this tool for many years (since it was first released) and use it on a daily basis to manage thousands of redirect links across many different domains. There is probably no other link redirection software on the market that is as feature-rich and comprehensive as this tool.
More Info: Trackerly
RoboForm is one of the world's leading password management software programs. It is simple to install, easy to use, lets you fill login usernames and passwords (and forms) automatically and works on all devices (PCs, laptops, mobile devices, etc.), all browsers and across all platforms.
RoboForm is also continually updated, it's secured with military-grade AES 256 encryption, and provides excellent user support.
More Info: RoboForm
***